Posted by Thomas the Terrible on August 20, 2007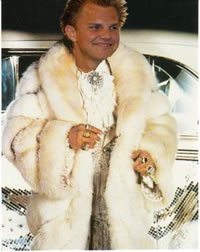 Jimmy Clausen the prized Notre Dame freshman quarterback, apparently has been living a secret life for sometime. When I say secret I don't mean blatantly gay like Brady Quinn who obviously got away with it for years. I was meaning more like being THAT little brother with the slight alcohol problem. It's always the youngest ones isn't it?
"SOUTH BEND, Ind. — Notre Dame freshman quarterback Jimmy Clausen has entered a pretrial diversion program after receiving a misdemeanor citation for transporting alcohol as a minor, a newspaper reports. Police were in an unmarked car outside the store to catch minors attempting to get alcohol, a police spokesman, told the South Bend Tribune. Clausen declined comment Friday. Notre Dame coach Charlie Weis also declined comment.
Clausen has entered a pretrial diversion program with the St. Joseph County prosecutor's office, said Linda Scopelitis, who directs the program. Under the terms of the agreement, signed on July 11, Clausen agreed to pay a $170 fee and to not commit a similar offense for a year."
I bet Casey and Rick Clausen are loving this. Granted Casey pranced ran like a girl, and Rick looked like he was either masturbating to much or to little but, being the alcoholic bootlegger brother now that has to carry shame there. I wonder what if any punishment fat ass Charlie Weis places on him. Let me think…oh I know make him run to Dunkin Donuts every time the coach downs a dozen, think about it, he'll be going there a good 7 or 8 times a day. Granted Phil isn't skinny but at least he is losing noticeable weight. Look at the picture…I said look at it!!! I mean he has a "front butt". And this was after a gastric bypass? Ummm…wow.
5 Responses to "Jimmy Clausen & His Secret Life."