Posted by Thomas the Terrible on September 7, 2007
On his quest to become a Rhodes Scholar in Ole Miss football and coloring books, Jerrell Powe has been denied for a third time when the NCAA rejected the appeals by him and the school.
Some of you might remember me writing about the second denial, you can find it here. If you haven't read it, I recommend that you do, the picture that shows how retarded he looks, is worth the read alone.
"Based on his academic history and even after receiving all the accommodations and protections available to individuals with disabilities, Mr. Powe has not demonstrated that he can succeed academically during his first year of collegiate enrollment while also practicing and competing in athletics," an NCAA statement said.
The NCAA granted Powe a partial initial eligibility waiver last week and ruled that Powe could attend Ole Miss and receive athletic financial aid, but not play football. He is currently enrolled and coloring in between the lines while not eating glue.
Coach Ed Crazy as Bat Shit Orgeron, who was not available after practice, addressed the decision on his Thursday radio show.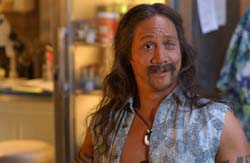 "I 's wooggie booga heaskghfr arrghhdlf Jerrelll festhw toljetplhjet foosball Brent Schaffer." Which translates in to: "I know Jerrell has a lot of fight in him," Orgeron said. "Eventually Jerrell is going to reach his goal of playing for Ole Miss, and look out when he does."
A special thanks to Townie from "The Waterboy" for the translation.
Powe's attorney, Don Jackson, said he will talk over options with a family representative Thursday night. In the past, he has said the next step will be to sue the NCAA.
"Why is it such a leap to believe that a young person like that can improve academically?" Jackson asked. "There's this belief that if you're going to make it, you have to cut corners to make it."
When your GPA is 2.0 and ACT score is 15, you aren't exactly a rocket scientist.
So I profess on this day 9/7/07.
tTt
3 Responses to "The NCAA tells Jerrell Powe: 1+2=3 As in No for the 3rd Time"
September 7, 2007 at 6:50 pm

This boy is clearly retarded; I mean stupid…I mean to be politically correct, has a learning disability. When you have a 2.0 GPA and a 15 ACT, no college in their right mind would admit him. The NCAA is saying he will not succeed in the classroom environment and he should go back to high school. This shows how much of a joke Ole Miss is for admitting him as a regular student. What kind of message is Ole Miss sending for their academic excellence or their lack of?

September 7, 2007 at 10:42 pm

"What kind of message is Ole Miss sending for their academic excellence or their lack of?"

It's probably the so called liberal educators. Seriously, I think they admitted him because him and his daddy's attorney threatened to sue the school. Instead of wasting money on a lawyer, when you and I both know there'll be a court order allowing him to go there until this is "officially" cleared up in the court system, they said fine admitted him and is just itching to flunk him out. Which I'm betting will happen before this time next year.

September 8, 2007 at 1:13 am

Obviously, Ole Miss doesn't have any cupcake classes like Underwater Basket Weaving or Titty Twisting 101. If they did, their sports programs would have won more championships. Send this kid to Arkansas and he would be a Rhodes scholar…