The New York Yankees wish New Yorkers a belated Merry Christmas & Happy New Year by screwing them with higher parking rates on game day but that's just the beginning. The Yankees and hundreds of their VIPs will get free valet parking for the next 40 years, courtesy of New York taxpayers. A bold move that is sure to really piss off Mets fans, if they had any fans after last years debacle.
The Yankees already the richest team in baseball shouldn't need this type of subsidy that is found buried deep in the fine print of a $237 million tax-exempt bond offering that city officials underhandedly issued before all things, Christmas.
A $70 million state subsidy for parking improvements for the new Yankee Stadium has been earmarked for a new 660-car valet parking garage where virtually all the spaces will be reserved for the free, year-round use of the Yankees and their VIPs, such as Alex Rodriguez's wife, whomever the current mayor is sleeping with & Al Roker.
The bond actually has more shocking details for New Yorkers to grasp hold of. Such as:
The total cost of the parking expansion project has zoomed to $340 million – $80 million more than city officials announced only eight months ago, when the directors of the city Industrial Development Agency gave preliminary approval to the bond issue. The money is meant to pay for three new garages, refurbishing half a dozen open-air lots and replacing lost parkland due to construction.
Game-day parking prices for the general public will more than double from $14 last year to $29 in 2010. They could hit $35 by 2014.
In addition to 600 free valet parking spaces for the Yankees, 120 game-day parking spaces will be reserved for the free use of the private cars of city cops assigned to the stadium, and an additional 130 on non-game days for city vehicles on "official business."
Another $5 million will be "donated" to the "Roger Clemons Didn't Juice Up" charity whose sole purpose is to make him look more like Floyd Landis than someone willing to admit they made a mistake.
"The Yankees have no involvement with the garages," team spokeswoman Alice McGillion said yesterday.
Sure. And Manhattan has no involvement with the Brooklyn Bridge. See this is just another reason to love Boston and hate the Yankees.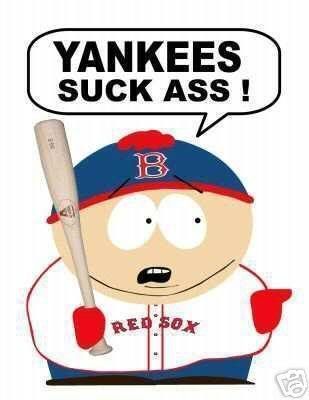 This I proclaim on 1/2/08.
TtT