Posted by Thomas the Terrible on February 18, 2008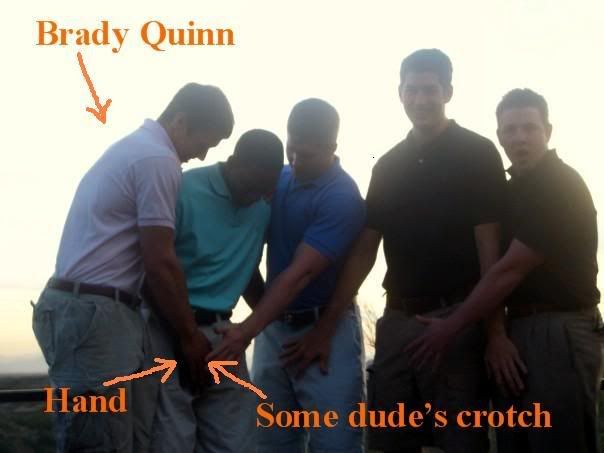 Brady Quinn the future of the Cleveland Browns has decided to alienate the majority of his entire fan base. Quinn is accused of being apart of a group of men shouting insults at gay passers-by outside a Columbus bar early on New Year's Day.
At 2:25 AM Seth Harris made a call to 911 and reported that he encountered the group in front of La Fogata Grill at 790 North High St. The Mexican restaurant is next door to the Union Cafe Bar + Food, one of Columbus' most popular gay bars.
On the 9-1-1 call, Harris said that "Brady Quinn from the Browns" was "trying to cause a fight." Harris told the operator, "I just walked outside and he exchanged many profanities with me and called me a faggot, of course."
Harris has also confirmed these allegations in person as well.
"I knew who it was," he said. "It wasn't just directed at me, there were other people around, too."

Quinn denies the incident even happened.
"At no time that night was I involved in a verbal or physical altercation, nor did I have any interaction with the police," Quinn said in the statement. "I want to be clear that I did not engage in any of the alleged conduct, nor did I make inappropriate comments to anyone.

.

"Any allegations to the contrary are either untrue or the result of misidentification."
However, the Columbus Po Po are claiming another version of the truth. They state a Columbus police spokeswoman said officers arrived several minutes after Harris' call and found Quinn in the midst of an argument with 32-year-old Jason Thompson.
"I don't believe there were any punches being thrown — it was more verbal than anything," said Columbus police spokeswoman Amanda Ford.

.

"When we got there, he was very cooperative and just stopped," Ford said of Quinn's encounter with police. "I think his friends were like, 'Let's get out of here.' "
Could it be that Quinn was hanging out in a gay area for a reason? And somebody recognized him and he shouted some slurs in an attempt to cover up his gayness?
Brady Quinn was hailed as the "next Bernie" when he was drafted…fairly local boy, grew up a Browns fan, coming to Cleveland to turn the Browns into a playoff contender. His actions since waking up on Draft Day:
He pouted and acted like a baby when Joe Thomas was taken in front of him, showing relief but not NEARLY the excitement that Bernie did on becoming a Cleveland Brown.
He was chastised by Joe Theismann for his pouting, and also for his bed-head the day of the draft, saying that neither Notre Dame fans nor Cleveland fans want to look at someone who hasn't had a haircut in months.
He held out and missed camp because he wanted more money which is inexcusable.
He played one game, pouting often because he wasn't getting more playing time when Anderson (who didn't hold out) was winning.
The Browns issued a statement backing Quinn, their former first-round draft pick who played in just one game as a rookie.
"We are aware of the alleged comments made by Brady Quinn, which the Browns take seriously," the club's statement said. "After speaking with Brady and his representatives we find these reported accusations without merit."

.