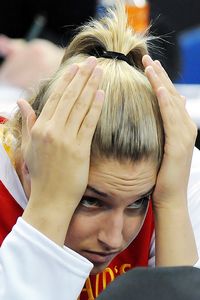 Incoming UConn freshman Elena Delle Donne left campus last week during her first week of summer school and headed to her Wilmington, Del., home.
It is all Pat Summitt's fault, I'm not sure how it is, but it is.
UConn women's basketball coach Geno "Horse Face" Auriemma confirmed Delle Donne's departure Saturday in an e-mail to The Hartford Courant.
"This is nothing out of the ordinary," Auriemma told the newspaper. "It happens all the time."
Delle Donne, a 6-foot-5 swingman and the national high school player of the year, chose UConn over Tennessee and Villanova without a tour of ESPN.
A source close to the Pennsylvania AAU basketball scene, where Delle Donne played during her high school career, told the Hartford Courant that the community had heard Delle Donne was upset about something that occurred during an informal scrimmage with teammates on campus.
However I believe she skidded into the popcorn stand after Gino raked his hair gel during an informal practice.
He told her that was one of the hazards of being coached by a primping prima-donna ego-manic.
UConn can only hope that's how the situation is resolved. Ernie Delle Donne told The Courant late Saturday that he had no idea how long it will take for his daughter to sort through the issues that forced her to leave summer school.
Delle Donne told Auriemma on Saturday that she didn't know how long it would take or whether a return to UConn for the second summer session — or ever — was an option.
Maybe she realized she made a mistake and she didn't want to play for a cheater…or a disrespectful smartass.