Posted by Thomas the Terrible on July 2, 2008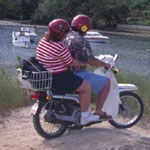 Backup linebacker Wendel Davis isn't exactly the smartest piece of crystal meth on the university of Arkansas football team. He has an injured hand after a non-injury accident Tuesday that was followed by Davis dismounting from his moped and pounding on the windshield of the car that bumped his vehicle.
The Morning News newspaper of Springdale reports that Gary Crain, public information officer for the University of Arkansas Police Department, said Davis was stopped at an intersection when his scooter was bumped from behind by another motorist in a car.
"There was no real damage or no injury there, but Wendel got off his scooter and pounded the car to the extent that he injured his hand," Crain said.
Crain said Davis caused dents to the car and broke its windshield.
Like this is actually a big deal. I break windshields with my bare hand all the time.
University police are investigating the incident.
Arkansas coach Bobby "Quitter" Petrino issued a statement released through the university that states he was aware of the incident, and would act appropriately once he had "all of the facts regarding the situation."
Word out on the street say it was in fact Bobby Petrino's car… well his rented U-haul anyway. Apparently he was getting prepared to activate plan B which is actually plan A in case things do not go well at Arkansas.
2 Responses to "Arkansas Player has Moped Rage"
July 26, 2008 at 1:52 pm

That's the kind of remark you would exspect from a UT fan. If facts would have been expressed, enstead of pure orange coolaid BS, then maybe the fact that Davis was seriously being dogged by this particular motorist would have been mentioned. There had already been 2 altercations by these two individuals over the past 24 hours, because this motorist was jealous that his girlfriend was chasing Davis around, even coming over to his apartment. He also was charged with Terroristic threatening, after stating to Davis he was going to "beat that a$$". There was also three witnesses that said the motorist looked like he was actually trying to hit Davis. The guy is very lucky not to have gotten $3,000 worth of damage to his body, much less his car.

July 26, 2008 at 3:46 pm

When I wrote this on July 2 one day after the indecent that's all the facts anyone knew at the time. I wish I knew about the other I could have fun with that.